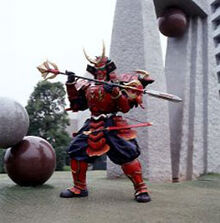 DOTOUMUSHA
| | |
| --- | --- |
| Name: | Dotoumusha |
| Japanese Name: | 怒涛武者 |
| Season: | Seijuu Sentai Gingaman |
| Episode: | Twenty-Two to Twenry-Three |
Dotoumusha is the most powerful of Budoh's Majin and the last Mob Shogun. In battle he proved more then a match for the Gingamen. Dotoumusha is a red lobster-like, samurai warrior. He is sent in Budoh's final attempt to draw the Galaxy Lights from the Earth. Dotoumusha created a force field to prevent interference from the Gingamen and used his staff to draw out the Lights, seemingly from underground. Although the Gingamen destroyed the force field, they are unable to prevent the Lights from falling into his hands. In a desperate chase, Dotoumusha captures the Lights in a magical urn. He is then tricked into using the Lights for himself in Iliess' scheme to mark Budoh as a traitor. In an attack by BullBlack, though, Dotoumusha loses the Lights to the Gingaman, who use their newfound powers to kill him before he can use the Baruba-X.
Ad blocker interference detected!
Wikia is a free-to-use site that makes money from advertising. We have a modified experience for viewers using ad blockers

Wikia is not accessible if you've made further modifications. Remove the custom ad blocker rule(s) and the page will load as expected.